Books
2022
Alexander Lott
Hybrid Threats and the Law of the Sea - Use of Force and Discriminatory Navigational Restrictions in Straits
Vito De Lucia, Alex Oude Elferink, and Lan Ngoc Nguyen
International Law and Marine Areas beyond National Jurisdiction, Brill, ISBN: 978-90-04-50635-0
2021
Satya N. Nandan & Kristine E. Dalaker
Reflections on the Making of the Modern Law of the Sea, Ridge Books, ISBN: 9789813251373
Irene Dahl & Øystein Jensen
Svalbardtraktaten 100 år, Fagbokforlaget, ISBN:9788245027884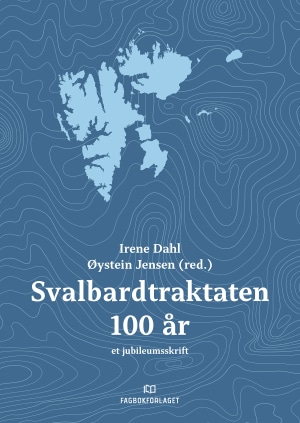 2020
Elise Johansen, Signe Busch and Ingvild Ulrikke Jakobsen
The Law of the Sea and Climate Change, Cambridge University Press, ISBN: 9781108907118
2019
Nigel Bankes; Stephen Allen; Øyvind Ravna
The Rights of Indigenous Peoples in Marine Areas, Hart Publishing, ISBN: 9781509928644, 2019, p 432.
Vito De Lucia
The 'Ecosystem Approach' in International Environmental Law, Genealogy and Biopolitics, 1st Edition
Routledge, ISBN13: 9781138557260, 2019.
2018
Ingvild Ulrikke Jakobsen; Trude Haugli; Gunnar Ketil Eriksen
Rettsvitenskap under nordlys og midnattssol, Fagbokforlaget, ISBN:978-82-450-2313-8, 2018, pp. 370
Tore Henriksen; Signe Veierud Busch; Alexander Oude Elferink
Maritime Boundary Delimitation: The Case Law. Is It Consistent and Predictable?, Cambridge University Press, 2018, pp. 433
2017
Tore Henriksen; Erik Jaap Molenaar; Kristine Dalaker Kraabel; Robert C. Beckman and J. Ashley Roach
Governance of Arctic Shipping. Balancing Rights and Interests of Arctic States and User States, Publications on Ocean Development (ISSN 0924-1922), vol 84, 2017, Brill Academic Publishers, pp. 448
2016
Ingvild Ulrikke Jakobsen
Marine Protected Areas in International Law - an Arctic perspective. Brill Nijhoff 2016 (ISBN 9789004254725) 435 s.
Irene Vanja Dahl; Nigel Bankes; David L. VanderZwaag eds.
Aquaculture Law and Policy - Global, Regional and National Perspectives. Edward Elgar Publishing 2016 (ISBN 9781784718107) 512 s.
Magne Frostad
Voldelige hav: Pirateri og jus. Cappelen Damm Akademisk 2016 (ISBN 978-82-02-52842-3) 299 s.
Signe Veierud Busch
Establishing Continental Shelf Limits Beyond 200 Nautical Miles by the Coastal State - A Right of Involvemrnt for Other States. Brill Nijhoff 2016 (ISBN 9789004326231) 451 s.
Vito De Lucia; Ruth Thomas-Pellicer and Sian Sullivan
Contributions to Law, Philosophy and Ecology. Exploring Re-embodiments, Routledge, ISBN 9781138852877, 2016 pp. 268
2015
Nigel Bankes; Seline Trevisanut
Energy from the Sea: An International Law Perspective on Ocean Energy. Utrecht: Brill 2015 (ISBN 9789004303515) 181 s.
Erik Jaap Molenaar; M. Chantal Ribiero (Co-Editors)
Maritime Safety and Environmental Protection in Europe. Multiple Layers in Regulation and Compliance (Gråfica Ediliber:2015) available at www.marsafenet.org
Alexander Oude Elferink; Don Rothwell; K. N. Scott and T. Stephens
The Oxford Handbook of the Law of the Sea, Oxford University Press, ISBN 978-0-19-871548-1, 2015, pp. 1072
2014
Øystein Jensen
Noreg og havets folkerett, Adademika forlag, ISBN978-82-321-0393-5
Øystein Jensen
"The Commission on the Limits of the Continental Shelf: Law and Legitimacy", Brill(Nijhoff (Leiden/Boston, 2014), 316 p.
David VanderZwaag
Climate Change and the Shifting International Law and Policy Seascape for Arctic Shipping, R.S.Abate (ed.) Climate Change impacts on Ocean and Coastal Law, U.S. and International Perspectives, (Oxford University Press.)
Claudia Cinelli; Eva Gomez Vasquez
Regional strategies to maritime security: A Comparative Perspective, published by Tirant Lo Blanch Valencia, 2014. pp. 312
2013
Alexander Oude Elferink
The Delimitation of the Continental Shelf between Denmark, Germany and the Netherlands; Arguing Law, Practicing Politics? Cambridge University Press 2013 (ISBN 978-1-107-04146-2)
Erik Jaap Molenaar; Alexander Oude Elferink; Don Rothwell
The Law of the Sea and the Polar Regions: Interactions between Global and Regional Regimes. Martinus Nijhoff Publishers 2013 (ISBN 978-90-04-25520-3)
Nigel Bankes; Timo Koivurova
The Proposed Nordic Saami Convention National and International Dimensions of Indigenous Property Rights. Hart Publishing Ltd 2013 (ISBN 9781849462723) 436 p.